Bangkok used to be a tropical swampland not too long ago, and just a couple of thousand years ago it was actually under the ocean.
Of course, now when you think of Bangkok, it's a bustling modern metropolis, with concrete (almost) everwhere. But there are still these pockets of green, tropical nature to explore, like this place which we visited during one of our Bangkok canal tours.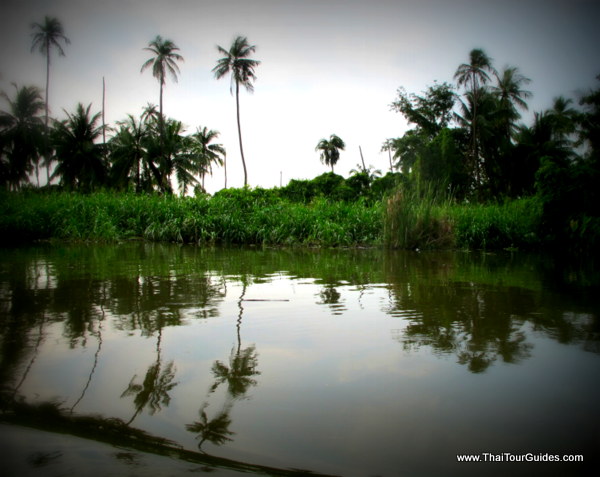 These canals are called khlong in Thai, and they used to be the main mode of transportation many years ago, before roads and cars took over. Now in some places of Bangkok you still find these kinds of canals, and these areas are sometimes refered to as the "green lung of Bangkok" – and when you look at this picture you know why.
It doesn't really feel like Bangkok when you do one of these Bangkok canal tours with us. Life beats to a different rhythm by the water. It's slower, more in sync with the rhythm of nature. And it's quite peaceful, especially if you're wired up from a couple of days of sightseeing in Bangkok.
Children still smile and will wave cheerfully when you pass by here, as do the old folks who sit by the water on their terrace, weaving straw hats, cooking food or doing whatever it is they have been doing all their life. Yes, times are changing, but sometimes the way things were are just fine and it's not really necessary to always jump on every new trend or development.
Doing a Bangkok canal tour can be great fun, especially if you're a group of people going together. It's along these waters where many people who value a slower, more natural lifestyle have chosen to spend their days. There are also groups of artists who are more in love with practicing art, rather than trying to find commercial success who have settled down here. And the more you learn about many of these people, the more interesting it gets.
If you want to book a Bangkok canal tour, just get in touch with us via the contact form.